Episode I Breaks Into Top 30
Posted by Steve on
Number of people currently in line: 0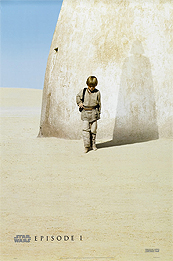 "Star Wars: Episode I: The Phantom Menace" is showing strong box office legs in its second weekend of release, grossing $36.87 million in the first two days of the Memorial Day weekend. Its total take after 12 days in release is $190.25 million.
Sunday's take of $18.13 million was enough to push it to the 29th highest grossing domestic motion picture release of all time.
Films it surpassed over the weekend include "Grease," "Top Gun," "Air Force One" and "Indiana Jones and the Temple of Doom."
Early box office indications show Episode I will blow past the $200 million mark after only 13 days in release, shattering the previous record of 21 days held by "Independence Day."