New Box Office Record!
Posted by Spell on
Number of people currently in line: 0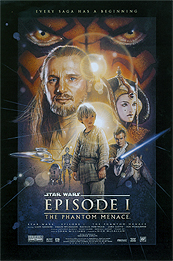 Greetings Line Fanatics! Star Wars is back! Oh Yeah!
Although I can't be at today's screening of Episode 1 with my fellow staff & line members I just wanted to let you know that my heart is with you.
Robert, Suzanne, Ariel, Matt, Steve, Gio...thanks for making this a most memorable experience for all who have been involved!! I'm looking forward to working with you guys (hopefully) on "Countdown to Episode II" (I've already started the website for it...call me!)
Now for the news...if you haven't heard already, a source over at the Drudge Report claims that Episode I has raked in an estimated $45 million dollars in ticket sales for it's first day alone. If the report is true then that would make it the biggest opening in a single day!
Cool! "Iceberg straight ahead!" And I think the writing on it may say "Star Wars: Episode 1 - The Phantom Menace"! Stay tuned for more...