Sponsor Funds!
Posted by Michaela on
Number of people currently in line: 0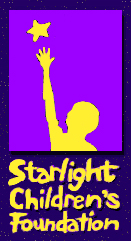 So far nearly $3,300 has been raised for Starlight. This includes money from pledges, the auction, concession stands, and strangers on the street!
The race is on for the top fundraiser. Right now, $1,315 in pledge money has been turned in. The front runner is Suzanne Sousa with $500 in pledges, followed by Robert Culver at $230 and Dave Creighton with $200.
Thanks also to Michele Hadlow, Steve Lubot, Jewels Sem, Joe Zurlo, and Eric Sanchez for their collections.
Starlight is looking forward to receiving many more pledges from NYLiners. Prizes will be awarded to the top fundraisers, with a very special prize for the top overall fundraiser of all the lines. Who will it be? Is the force with you?
Pledges can be sent to Michaela Potter at:
Starlight Children's Foundation NY-NJ-CT
1560 Broadway
Suite 600
New York, NY 10036
Any questions? 212-354-2878 or email michaela@starlightnyc.org
Be sure to turn in your sponsor form with all the names and addresses of donors, as we like to thank everyone for their support!