Stand-a-thon For The Starlight Foundation!
Posted by Spell on
Number of people currently in line: 0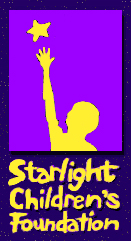 The Starlight Children's Foundation of NY-NJ-CT brightens the lives of seriously ill children by granting wishes and providing a variety of entertainment and funding to hospital pediatric wards. Like our counterparts in Los Angeles and San Francisco, NYLine Countdown will be utilizing the amazing, once-in-a lifetime opportunity surrounding the release of Episode I to raise money for the Starlight Children's Foundation. NYLine Countdown will be raising funds for the Starlight Children's Foundation NY-NJ-CT through individual and corporate sponsorship for each hour NYLine fans spend in line; the auctioning of NYLine T-shirts; and the collection of donations on the NYLine and within the Ziegfeld Theater. Also a group of volunteers from NYLine Countdown will entertain children at two area hospitals as part of Starlight's Hospital Party and Clown Program.