Starlight and NYLine Need Your Help!
Posted by Suzanne on
Number of people currently in line: 0
Hello Fellow NYLine Fans,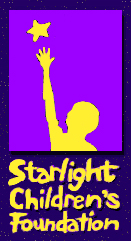 For those of you who I have not had the pleasure of speaking with over the last couple of weeks, I would like to introduce myself. My name is Suzanne and I am the Assistant Line Organizer and PR Princess for NYLine Countdown. May 1st is quickly approaching and I cannot wait to meet many of you on line! As all of you are aware, NYLine was organized to celebrate the release of Episode I. In addition, like the lines in Los Angeles and San Francisco, NYLine Countdown will be utilizing the once-in-a lifetime opportunity surrounding the release of the new Star Wars film to raise money for the Starlight Children's Foundation. NYLine Countdown will raise funds for the Starlight Children's Foundation NY-NJ-CT through individual and corporate sponsorship for each hour NYLine fans spend in line; the auctioning of NYLine T-shirts; and the collection of donations on the NYLine and within the Ziegfeld Theater. Also a group of volunteers from NYLine Countdown will entertain children at two area hospitals as part of Starlight's Hospital Party Program.
If you haven't already, sponsor forms are available to download from countingdown.com/starlight or by clicking on the "STAND-A-THON" logo on the left of this web page. If you are unable to download the forms, please let me know via e-mail (email omitted), so that I could mail you the forms. When you print out the forms, please circle the New York banner on top of the page to designate the funds for Starlight Children's Foundation NY-NJ-CT.
As part of a large national movement to benefit the Starlight Children's Foundation, there are several prizes that will be awarded to the LINE and INDIVIDUAL LINE MEMBERS who raise the most money. There will be one "huge" prize for the line member among the four lines who raises the most money from sponsors. Phillip, co-founder of the Countdown site and Organizer of the two lines in Los Angeles would only tell me that the prize is "huge!" For the NYLine, there will be two prizes given to the top fundraiser. There will also be an Awards Dinner during the summer for the top 25 fundraisers of the NYLine. This distinguished group of 25 will not include the 15 NYLine Organizers. This way all NYLine participants will get a fair chance at being invited to the Award Dinner.
If you have any questions, please do not hesitate to get in touch. Thank you and I will see you on line!!
START SIGNING UP SPONSORS NOW!!
Take care, Jedi Friends
Suzanne
Assistant NY Line Coordinator