Starlight Foundation Wants YOU!
Posted by Michaela on
Number of people currently in line: 0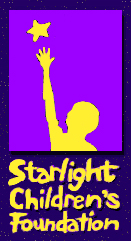 Starlight Children's Foundation NY*NJ*CT greatly appreciates all of the hard work and dedication shown by NYLine Countdown to Star Wars. In addition to raising an impressive amount of funds, this incredible event raised a great deal of awareness for Starlight - something you can't put price on. It was amazing to see volunteers on the line use 100% of their energies and passion for Star Wars to make an extraordinary event for Starlight.
And Starlight Kids got to share in the excitement or of opening day - kids like TJ. His mom writes:
Thank you so much for the tickets to Star Wars Episode I: The Phantom Menace. My son TJ, who is eight and has a serious illness, was ecstatic. He could not believe we were actually going to see Star Wars at the Ziegfeld. We wanted to share out experience and to extend a special thanks to everyone at Starlight and NYLine Countdown.
Even though it was pouring rain and the place was mobbed, it did not dampen the experience. With lightsabers in hand, we went to our seats. There are few occasions when my son can forget he is sick. TJ endures endless medications, physical therapy, doctors, tests, and hospital visits. This night would be an exception. Illness forgotten, he was transported to..."a long time ago in a galaxy far, far away."
TJ was enthralled with the movie. Clapping, cheering and laughing. The look on his face was priceless. We have never seen him so happy and excited. We would like to thank everyone at Starlight and NYLine Countdown for making this possible. You put some magic into TJ's life and gave him a very special memory to treasure.
Having been with Starlight for over three years now, I have never experienced such a dedicated and professional group of volunteers. I don't want to lose you all! Please email me with your address information if you are interested in doing more volunteer work with Starlight - michaela@starlightnyc.org. In addition to working and planning events, volunteers help grant the wishes of our children - a very rewarding experience.
Check out our website at www.starlight-newyork.org to find out more about what we do and how volunteers help us. I hope that this is just the beginning.