Ticket Distribution and T-Shirts!
Posted by Louis on
Number of people currently in line: 10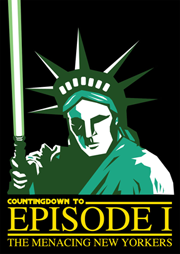 Tickets will be distributed Tuesday night from 6-9 pm. Tickets for both the midnight and primetime shows will be handed out. Come by as early as you can starting at 4:30 to find out more details. Please spread the word to people that you know have TPM numbers but do not read the website or the forum.
As a bonus, we will have special NYLine t-shirts available for purchase by our line members. The shirts will be $20 with all proceeds going to the Starlight Children's Foundation. There are only 100 shirts available. The shirts will be limited to one per line member in order of points accumulated. More details will be available on the line when you come Tuesday. We will be auctioning 5 of these limited t-shirts and one extremely rare STAFF shirt after ticket distribution is finished at 9:00pm. A limited edition cell will also be up for auction, details regarding this auction will be available on the line.