Attack of the Cockroach!
Posted by Spell on
Number of people currently in line: 25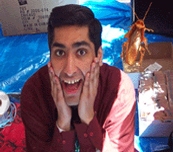 Now here is a good story! You hear about this stuff but you never believe that it could happen to you. Three days ago we decided to hold our weekly NYline Staff meeting at a nearby restaurant (name withheld to protect the guilty). Everything was going well until the food was served. Just as we are about to dig in, Karen (our NYLine TV Producer) let's out an unearthly scream! Her meal, it would seem, came with something she didn't order! Cockroach! Pretty gross! Needless to say we all left immediately and resumed out meeting in Fisher Park. Sigh. Only in New York.
Usual shenanigans, like Star Wars Stratego, Epic Duels, Trivial Pursuit, Video watching, Celebrity sightings, and Press visits are all still the norm for us NYliners. Tomorrow looks to be extra special as we are planning to conduct a Star Wars Wedding ceremony...on the line! If you haven't stopped by yet to share in the fun then come on down!
Sorry about the lack of pictures the last few days. There are only so many you can post of line members hanging out in the tent. Below are some choice pics from Day 9 and 10. Enjoy!