Conan O'Brien Does NYLine
Posted by Spell on
Number of people currently in line: 0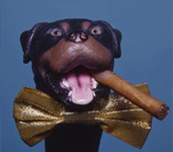 Hey fellow NYLiners! Spell here. If you haven't already heard and/or seen it, NYLine was featured on the Conan O'Brien show last week!
Triumph the Insult Comic Dog really ripped into us "Nerds"!
Remember, if you have pictures you would like to share with us from the event, please send them to contact@nyline.org and we will post them in the near future for all the world to see!
Let me just say that I was proud to be a part of this event and hope to see many of you at "Fan Day" next month. Until then...
May The Force Be With You!