NYLine II: The Line Continues...
Posted by Spell on
Number of people currently in line: 150+
The day we have been waiting for is finally here! In just a few of short hours the New York City line up for Star Wars Episode II will begin in earnest.
If you haven't signed up then what are you waiting for? Go! Now! You must join us! Signup by clicking here and help raise money for a worthy cause, The Starlight Children's Foundation!
If you are unable to sign up for shifts but would still like to hang out with a bunch of hardcore Star Wars fans, just come up to the Ziegfeld Theater at 141 West 54 Street or if you would like to call us instead on the theater payphone just dial 212-664-9764!
As you know, any NYLine member raising at least $50 for the Starlight Children's Foundation will be receiving an exclusive NYLine T-shirt. Here it is!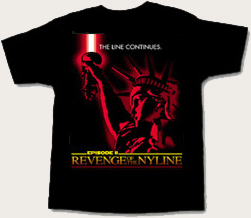 For a closer look at the image gracing the shirt's front, click here.
Again, if you're not already an NYLine member, sign up here.
To begin signing up sponsors, download the Starlight Sponsor Pledge Form.
See you on the pavement and May the Force be with you!
Only 18 more days to go!