NYLine TV Update & More Shirts!
Posted by Spell on
Number of people currently in line: 20
Just a quick post to let you all know that we have some new NYLine TV features up! If you haven't checked out NYLine TV already then head on over there now!
The Official NYline T-Shirts are also now available!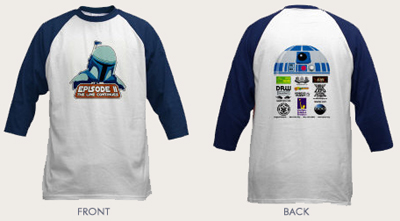 Don't be caught without one on opening night! Order yours today at www.cafepress.com/nylineshirt
If you are also in need of waivers or sponsor forms, they can now be easily located on the left hand side of this screen in the "Line Info & Forms" bucket. Important Line information articles can also be found here.
Again, some of you have not showed up for shifts or have not sent in your $15.00 money order for your tickets to the midnight screening of Episode II. Failure to do either could leave you out in the streets while we are inside reveling in Star Wars glory. Don't miss out! If you can't make a shift or need to reschedule - be sure to tell us by dropping by the line or emailing us at contact@nyline.org
Wow...9 days to go...hard to believe it's so close!