The Line Starts Here...In My Dorm Room!! Or not!
Posted by Amit on
Number of people currently in line: 0.5
According to my calculations, which were performed using a TI-83 graphing calculator and double checked on my fingers and toes, we have only 16 days to go until the release of Episode II: The IMAX Experience!!! Right now the closest confirmed theater to the bright center of the universe which will be showing SWE2AOTCTIE is at the Palisades Center Mall in West Nyack (which just happens to be 15 minutes away from where my patoot is planted here at school). Now despite my constant barbs that there isn't enough life here to fill a space cruiser, it's not really that far out beyond the outer rim at all. It can't be more than half an hour from the city by car, and I'm pretty sure there are buses heading over from Port Authority fairly regularly. You don't even have to travel as refugees to come aboard! But feel free to wear wacky headresses if that is your destiny. And speaking of dressing up (sweet segue there), members of the Empire City Garrison and Star Wars NYC will be at the theater on November 1st and 2nd raising money for local charities, so lend them a hand. We certainly know that Anakin won't be able to!
That was a joke...I think.
EDIT: Hey, guess which boy has no patience? Yes, it's me! As of late this evening, the Lincoln Square Sony Loewes IMAX screen has been confirmed as a venue for the big show!! So I'm thinking the 1 train beats the horse and buggy we have up here, any day! Let's meet on the West side all of 15 blocks from our old home at the Zieg, eh?? I hear that this time we're even getting a special gift for partying so heartying! And because someday I will be the most powerful something-or-other ever, how about I just speak on behalf of everyone and say we do this thing on Friday November 1st, evening show? Or we could hit a later one if that's better. Or we could do both, who the heck am I to argue? Stop yelling at me. You know there IS a midnight show scheduled for the Thursday before at the Palisades, and the thought of doing that again is...intoxicating.
Hey, and speaking of new arrivals, a thought: (Ooh, another good transition)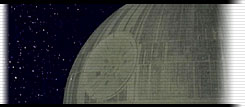 When this Death Star blew, it was the start of a string of events that would eventually lead to the balancing of the force, bringing peace and justice back to a tattered galaxy.

When this Death Star blew, it was cute!
And last, but not least...Wait, I mean - speaking of celebrations, which is what happened after the Death Star blew - last week our Production Queen and NYLine TV starlet Karen Grenke tied the proverbial knot in a galaxy-wide celebration that localized mainly in Brooklyn. And no, the groom wasn't friend Mr. Camel from an old segment, but David Vining, director of all our spots since 1999. Of course there was a connection with geeked out, Jango Fett laced wine labels created by John Green. It was all pretty dang gonzo I must say, and these two have a true and deep love - we will watch their careers with great interest!