The Return of Blackwolf The Dragon Master
Posted by Spell on
Number of people currently in line: 0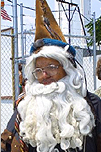 Friends, while surfing ye olde internet today thou hath pleasantly discovered the lair of our old friend, Blackwolf the Dragonmaster, Duke of Talisker and New York City's first and only Unofficial Wizard.
We first met Blackwolf on NYLine II during what was quite possibly our greatest moment - getting ripped into by Triumph the Insult Comic Dog.
If you haven't visited already, Blackwolf's website can be found here.
Huzzah!