You Go, UGO!
Posted by Spell on
Number of people currently in line: 18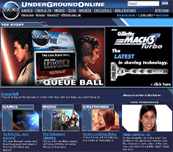 I just wanted to let all of you readers out there know what a great sponsor UGO* is! For those of you who do not know, UGO, besides being a great entertainment website, is also our technical sponsor. They have helped out with supplying us with server space, 250 feet of network cable for our DSL hook up, and most importantly - exposure on their big, bad website. Which gets a helluva lot more hits then we could ever hope to get on our own.
Check out their awesome website today!
Many thanks to Eric Eckstein, Damian Bruno, Matt Caracappa, and the rest of the UGO team. You guys rock!
Underground Online * UGO (Pronounced You-Gee-Oh...ya know...like that cartoon)