A Message from Ghetto Fett, aka the SUPER SUCKLORD
Posted by Amit on
Number of people currently in line: 0
If you've been around the NYLine in either 1999 or 2002, or any recent major Star Wars event, you've probably seen or heard the "trunk-thumping beats" of the one and only Ghetto Fett. For this line we're officially bringing him, or any of his clones, in to the family to "kick out the jams old skool" whenever feasible. In case you're not aware of his oeuvre, the SUPER SUCKLORD himself has this message for all NYLiners:
SUCKADELIC RECKIDS PRESENTS THE SUPER SUCKLORD: LIVE AT THE ZIEGFELD! ROCKING THE 2005 NEW YORK LINE FOR REVENGE OF THE SITH!
Everyone's favorite Hip-Hop bounty hunter, The SUPER SUCKLORD, aka: Boba Fresh, Boba Flex, Ghetto Fett, or Boba Fatt is doing it again! Now a fully realized Sith Lord, The unoffical STAR WARS DJ is stepping it up for the grand finale! The ILL Villain, fresh from Celebration 3 will be spinning Force-Ful hits outside the theater with his crew, The BAND of the LOST! Standing in line for weeks at a time will never be the same!
Dates TBA. Check the schedule for days and times, or live forever in deep, unending regret!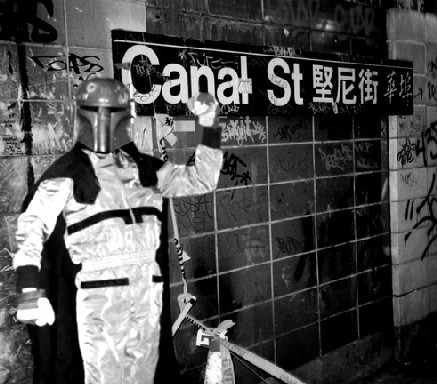 A one man army, the SUPER SUCKLORD has been cranking out hot underground experiments from an undisclosed location in New York City since 1977. The SUCKLORD is synonymous with his evil arts organization known as SUCKADELIC. A further mutation of a man formerly known as the SUPERGENIUS, the SUCKLORD first gained international noteriety with the seminal STAR WARS BREAKBEATS CD. Released in 1997, this quirky gem broke the CMJ top 40, was praised in the BEASTIE BOYS' GRAND ROYAL magazine, and was featured on NATIONAL PUBLIC RADIO's ALL THINGS CONSIDERED program.
This release was followed in 2001 by the sleeper album SAURON SPEAKS: Fat Beats from the Dark Tower. More abstract than its predecessor, this LORD of the RINGS remix record may have been too inside for general consumption. It was, however, embraced by many J.R.R. Tolkien fans worldwide. This was the project that lead the SUCKLORD to become a memeber of the Tolkien inspired hip hop group, The LORDS of the RHYMES.
The new SUPERVILLAINS album for 2005 promises to out-suck any SUCKADELIC record to date. This audio celebration of EVIL and MAYHEM gets deep into all your favorite baddies such as SKELETOR, COBRA COMMANDER, MEGATRON, and GARGAMEL. Don't sleep!
Beyond music, the SUCKLORD is an up and comming artist and toy designer. His work has been reviewed in Toyfare magazine and has shown in groundbreaking galleries such as ALIFE, 360 TOY GROUP, and TOY TOKYO. 2004's SUCKLORD 66 bootleg figure continues to baffle even the most avant-garde collectors. A new line of locally produced toy-art collectables from SUCKADELIC will be unleashed in the summer of 2005, so look out! Check WWW.SUCKADELIC.COM for release updates.