Dark Horse Rising
Posted by Amit on
Number of people currently in line: 0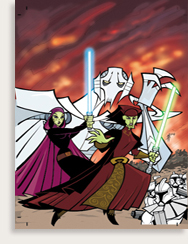 Honorable representatives of the Republic, I come to you under some pretty cool circumstances. We are very excited to announce a new sponsor for NYLine III - the official publisher of Star Wars comics, Dark Horse (www.darkhorse.com)!! The illustrious company bids us welcome and has offered a hefty bounty in support of our cause, so line members have some nice gifts and impressive prizes to look forward to next year. The folks at Dark Horse have been fantastic to us, and of course we pledge our allegiance to them as well. We can start by encouraging everyone to show up at your local comic book store this Saturday, July 3rd for Free Comic Book Day (www.freecomicbookday.com). Dark Horse is offering the first of their books continuing from where the Cartoon Network Clone Wars Animated Series left off. So drop by, pick up your comic free of charge, and peruse all of their other great titles. If you're not yet aware of the work they do in the Star Wars line as well as for many others, I'm sure you'll find it all to be most impressive. These guys are our kind of scum, fearless and inventive.
Also, as the kids like to say, "big ups" to new coordinator Marion Vitus for bringing us and Dark Horse together! Maybe we'll make her a bombad general or something.
Keep your eyes open for more updates, we're working towards making alliances with other great sponsors, and of course if any of you out there have ideas or contacts that you think might help us in that department, drop us a line at contact@nyline.org! And pick up your visual scanning for another newsletter in the not too distant future. If you haven't signed up yet, electric slide on over to the left and enter in your email address!