Happy Holidays from NYLine!
Posted by Spell on
Number of people currently in line: 0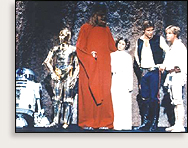 We would like to take a moment to wish you all a very Happy Holiday and joyous New Year!
Speaking of New Years, 2005 is a "Star Wars Year" which brings us to the final installment of a movie we have all been excitedly waiting for. Leading up to the main event, there will be new trailers, posters, toys, a soundtrack (can't wait for that soundtrack), and of course, a certain sidewalk line up/charity event called NYLine 3!
If you have been busy for the holidays and are now just visiting us, here are a few things you should know:
We will be lining up in front of the Ziegfeld Theater from April 30th to May 19th.
Our Charity Affiliate is once again the Starlight Starbright Children's Foundation.
A tentative Line Schedule may be found here, so start planning those days off!
Registration for the line will begin sometime in March. As always, you will be able to register online.
We now have our very own message boards!. Head on over to NYLine Boards and sign up today!
Stay tuned for more exciting news from NYLine and, uh, try not to drink too much blue eggnog this year. You know how crazy it makes you get.