I Never Doubted You For A Second! Wonderful!
Posted by Steve on
Number of people currently in line: 0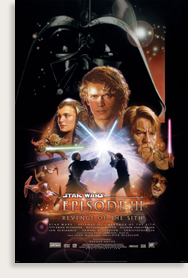 Clearview Cinemas, 20th Century Fox and Lucasfilm have finally made it official – "Star Wars: Episode III - Revenge of the Sith" has been booked at the Ziegfeld Theatre for its regular run opening Thursday, May 19!
The date tickets will go on sale to the general public has yet to be determined, so NYLine is the only way to guarantee you'll be inside when the Ziegfeld's big, red curtains part to reveal the 20th Century Fox logo at 12:01 a.m.
It'll take a few moments to get the coordinates from the nav computer, but in the coming weeks, we'll be providing all the necessary details to register for NYLine and the Stand-A-Thon benefiting the Starlight Starbright Children's Foundation. Be sure to stay tuned to nyline.org and our message boards for all the latest news, and we'll see you on 54th Street!