Incentive T-Shirts: The Trilogy Is Now Complete!
Posted by Steve on
Number of people currently in line: 0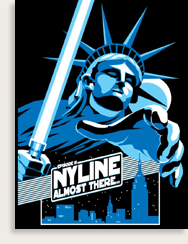 Every journey has a first step... Every saga has a beginning... Every NYLine has a really cool Liberty Jedi T-shirt that can be yours if you raise money for the Starlight Starbright Children's Foundation.
All you need to do is show up with a minimum of $60 in Starlight Starbright donations and turn that money in to NYLine during any of the daytime weekend shifts starting April 30, and this shirt is yours!
Designed by NYLine's very own John Green, the Starlight Starbright incentive T-shirt introduces the third and final variation of the popular Liberty Jedi logo. The first, titled "The Menacing New Yorkers," was illustrated by Jason Narvaez for the "Episode I" NYLine back in 1999. Modeled on a pose by Liam Neeson's Qui-Gon Jinn in the trailer for "The Phantom Menace," the Liberty Jedi became an instant icon and the official NYLine mascot.
When 2002 rolled around, we knew the Liberty Jedi was going to play a major role in our identity as an organization, but did not want to repeat ourselves. Realizing that we'd already used one lightsaber color, it seemed logical to go with one of the remaining two (not counting Mace Windu's purple blade, of course). John Green's homage to the "Revenge of the Jedi" teaser poster may have had the Sith striking back one line too soon, but the shirt was amazing - to the extent that a gentleman from Great Britain purchased our prototype for a $200 Starlight donation!
Despite his color palate being limited to shades of blue in 2005, we think John Green has managed to infuse this nod to the 10th Anniversary poster for "The Empire Strikes Back" with hints of the darkness and sadness that will permeate the movie ending our line May 19. The NYLine journey will be complete. The "Star Wars" saga will draw to a close. But this shirt will be a lasting reminder of the experience it commemorates, and a symbol of your dedication to helping Starlight Starbright. Wear it proudly, and the Force will be with you... always.