Lego Master Builds Liberty Jedi for NYLine Auction!
Posted by Amit on
Number of people currently in line: 0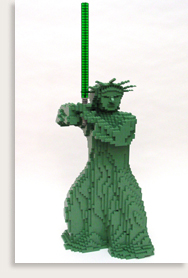 Nathan Sawaya is a professional LEGO artist and former LEGO Master Model Builder with a gift for creating incredible works of art in the brick medium - a gift that he has graciously decided to share with us at NYLine for our eBay auction to benefit the Starlight Starbright Children's Foundation. Nathan is a great man, and he has special powers. He's been featured on numerous occasions on television and in print, such as Newsweek, the Los Angeles Times, The Hollywood Reporter, Newsday, NBC's Today Show, MSNBC's Countdown with Keith Olbermann, ESPN's Cold Pizza, ABC'S Jimmy Kimmel Live, and most recently on the Late Show with David Letterman. But Star Wars fans would know him best from his amazing Death Star II table top model, stormtrooper mosaic, and life size Han Solo in Carbonite, all made solely from LEGO bricks.
It was the combination of an equal love for Star Wars and our home town of New York that drew us together. In order to best capture the essence of these two passions, Nathan looked to our logo of the Statue of Liberty wielding a lightsaber, and created a stunning sculpture that will be donated for our online auction. Standing at 40" x 11" x 13", our lady comes with green lightsaber ignited, ready for action in a pose reminiscent of one of the most memorable scenes in the Star Wars saga. She is built from over 2,500 standard pieces and is entirely glued together.
"Creating unique works of art is my passion, creating them to benefit the care and well being of sick children is an honor," says Nathan.
For more pictures of this amazing work, click on the image, and visit Nathan's site.
Click here to view even more images!
Find out about all of the other great items being auctioned off for Starlight in our eBay auction taking place from April 21st to May 17th, by visiting www.nyline.org/auction!