NYLine Auction Item: Celebration II and III Exclusive Figures
Posted by Amit on
Number of people currently in line: 0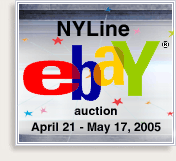 Ah, the term "exclusive". It's a word that makes the hearts of Star Wars collectors pick up a slight flutter. In 2002 at the offical Star Wars Celebration II, fans were given the opportunity to purchase an exclusive limited edition action figure made by Hasbro. Two of these figures were donated by wonderful members of NYLine family for our Starlight Starbright Children's Foundation eBay auction. For the upcoming Celebration III, Hasbro is again offering a special figure, which we will be purchasing ourselves as several staff members will be heading to Indianapolis to man our NYLine Fan Table.
You will be bidding on two separate items, each containing one Celebration II Jorg Sacul action figure and one Celebration III Talking Darth Vader action figure. This is a great opportunity to add these two very rare and sought after collectibles to your collection at one time.
The Talking Darth Vader action figure is a Star Wars Celebration III exclusive, available only at the Indiana Convention Center, April 21 - 24, 2005. It comes in a special Celebration III collectible packaging and says numerous phrases spoken by James Earl Jones such as "The dark side of the Force is strong with you", "Your journey to the dark side is now complete", "Prepare to experience the Revenge of the Sith. It is your destiny" and "Welcome to Star Wars Celebration III. Never will you find a more wretched hive of scum and villainy." It also features a recording of the infamous Darth Vader breathing. The voice feature and battery replacement are accessible through the back of the packaging, both reachable without removing the figure. The figure will be in mint condition.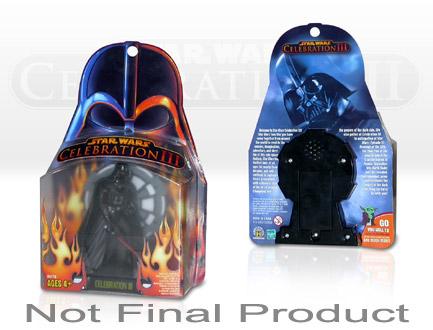 The Jorg Sacul action figure was released exclusively at the "Star Wars Celebration II", May 3-5, 2002, at the IndianaConvention Center in Indianapolis, Indiana. If you missed out on this highly collectible Star Wars action figure, now is your chance! It is an X-Wing fighter pilot, whose visage bears an uncanny resemblance to a certain bearded film director. The figure is in excellent condition in its original packaging, with a small crease in the upper corner of the cardboard backing, as pictured.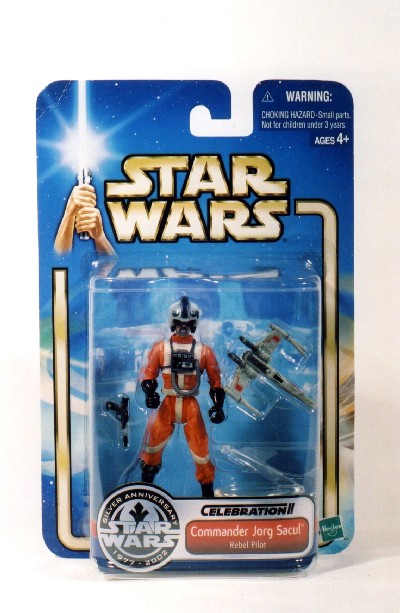 Be sure come on back for another update to our auction listing shortly! And catch up on the other items announced so far by visiting our auction page and our picture gallery!