NYLine Auction Item: Star Wars Autograph Lot - Attack of the Clones, including Jedi-Con '04 Exclusive Figures
Posted by Amit on
Number of people currently in line: 0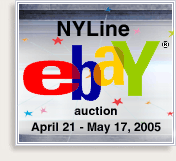 The collection of autographs culled together by Bart Barenbrug as he travelled Europe featured every generation of Star Wars performer, and even several members of the Star Wars community that have become as beloved to fans as the stars themselves. This lot of items includes autographed photos of the stars of the latest Star Wars smash, Attack of the Clones, and also a special item that Bart picked up for the eBay auction benefiting the Starlight Starbright Children's Foundation at Jedi-Con 2004 in Germany.
This fantastic lot includes an exclusive action figure set from Jedi-Con '04 of a Clone Trooper and a Super Battle Droid, signed by Gus Lopez, renowned Star Wars collector and founder of the website www.ToysRGus.com and Steve Sansweet, author, columnist and Lucasfilm liaison to Star Wars fans everywhere. The box has a slight tear in the front of the packaging as pictured. The figures have never been removed from the box. Only 2,500 of these items were produced, and the package comes numbered on the back of the box, 0124 of 2,500.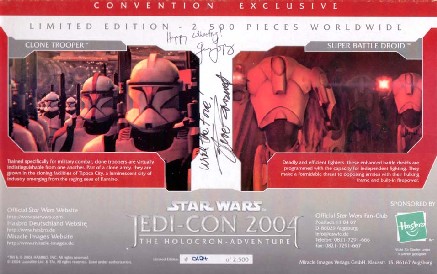 The set of 5 autographed photos from performers who took part in Star Wars: Episode II each come with a photo of the personality at the time of signing. The autographed photos in this lot include:
Daniel Logan: Young Boba Fett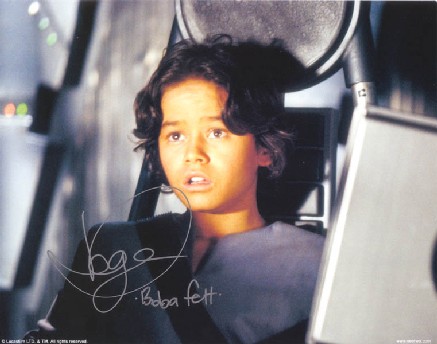 Orli Shoshan: Shaak Ti of the Jedi Council
Amy Allen: Aayla Secura, a Jedi Knight
Nalini Krishan: Barriss Offee, a Padawan
Jay Laga'aia: Captain Typho, Senator Amidala's head of security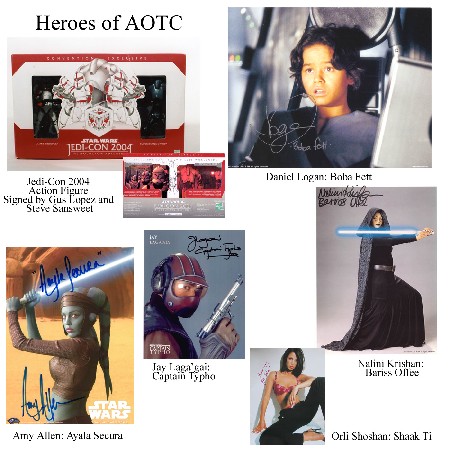 For up close views of all of Bart's autographs, as well as the shots of the celebrities signing them, visit his autographs page!
Come back soon for the next auction announcement! Check out our auction page and picture gallery to catch up on all of the items announced so far!