NYLine To Hold Online Auction for the Starlight Starbright Children's Foundation
Posted by Amit on
Number of people currently in line: 0
NYLine To Hold Online Auction for the Starlight Starbright Children's Foundation
Posted By Amit on 2/28/2005 3:38:35 AM EST
Number of people currently in line: 0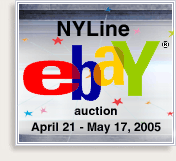 We here at NYLine are proud to announce that we are holding an online auction of rare and exciting Star Wars memorabilia to benefit the Starlight Starbright Children's foundation! The auction will take place in late April and last until the middle of May. All profits will go to Starlight's Fun Center program.
As you might have read in our newsletter, the idea for this auction was spurred by our friend Bart Barenbrug, a fan from the Netherlands and soon-to-be three time NYLine member. Over the past two years he has toured conventions, collecting 69 autographs of Star Wars celebrities for the sole purpose of donating them to a Starlight auction. Prompted by his dedication, we have begun amassing a fleet of fine collectibles for the auction, which we will be announcing over the next two months. One piece that we're especially excited to present will be an original creation by Nathan Sawaya (http://www.nathanbrickartist.com), the renowned professional LEGO artist and former LEGO Master Model Builder who has been featured numerous times in the media, most recently appearing on the David Letterman show last week. Star Wars fans might recognize him as the man who has built such technological terrors as a Death Star II table top model, a stormtrooper mosaic, and a life size Han Solo in Carbonite, all out of LEGO.
Even with the great items that we're gathering, any help here would still be hot. If you have a high-end Star Wars collectible (retail value roughly $150 or above) or specialty item that you think would earn some money, which you would be willing to part with for a great cause, you must contact us at donate@nyline.org by March 20! Line members who get a donation accepted for auction will be rewarded for it! The amount of the final bid on your auction will be added to your final point tally on May 18th, which will determine when you get into the theater and thus what seat you get for the premiere. So if you can, dig deep for our Starlight kids. And if you're simply interested in bidding in the auction, stay tuned to nyline.org for how to do so!