NYLine TV: Line Mom Double Feature
Posted by Spell on
Number of people currently in line: 12
NYLine TV: Line Mom Double Feature
Posted By Spell on 5/4/2005 11:51:33 AM EST
Number of people currently in line: 12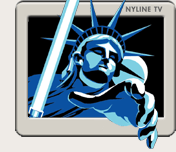 NYline's very own Lynne Lipton, affectionately know to all of us as "Line Mom", captures the first two days of our line-up on 54th Street with some beautiful video montages of all the folks and fun taking place at our home away from home for the next couple of weeks — The Ziegfeld Theater!
Thanks again, Line Mom! We love you too!
Head on over to our NYLine TV section and check them out!