NYLine TV: The JediRob and Amit Show
Posted by Spell on
Number of people currently in line: 12
NYLine TV: The JediRob and Amit Show
Posted By Spell on 5/12/2005 2:18:46 AM EST
Number of people currently in line: 12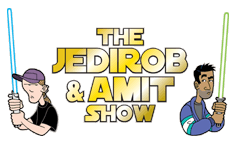 George Lucas has said on more than one occasion that the original Star Wars trilogy is told through the eyes of See-Threepio and Artoo-Detoo, and that the Prequel trilogy is told from the point of view of the Jedi. Well that's all fine and good, but who is to tell our story? The fan story. The story of proud geeks lined up across the land, waiting with bated breath for Uncle George's final masterpiece? I'll tell ya who...
JediRob and Amit
They're who?
JediRob and Amit...and they're here to rescue you.
NYLine TV is proud to present The JediRob and Amit Show. Now playing in a popup browser window near you. See the NYLine Experience through their eyes today.