NYLine TV: The NYLine Diaries
Posted by Spell on
Number of people currently in line: 43
NYLine TV: The NYLine Diaries
Posted By Spell on 5/17/2005 12:43:10 AM EST
Number of people currently in line: 43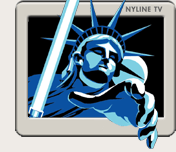 Two NYLine TV posts in one night? Yup, it's true!
Next up from our talented production peeps come Countless Stories: The NYLine Diaries. These most excellent and intimate video portraits feature some of the characters that make up the NYLine universe this time around. Check it out today!
Many thanks to the amazing Jamey C. Shafer at Inkling Productions for putting these great stories together.
Note: Shockwave 10 and Quicktime are required to view the videos.