NYLine TV: Ziegfeld Follies - CHF Charity Premiere
Posted by Spell on
Number of people currently in line: 35
NYLine TV: Ziegfeld Follies - CHF Charity Premiere
Posted By Spell on 5/13/2005 3:01:38 PM EST
Number of people currently in line: 35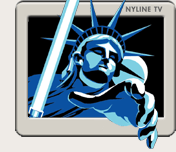 Join us on NYLine TV as we rub elbows with heroes and villains from the Star Wars Universe!
The Ziegfeld Theater drew throngs of crowds and celebrities for last night's CHF Charity Premiere of Star Wars: Episode III - Revenge of the Sith. Luckily for you, the NYLine just "happened" to be there with cameras waiting.
Also, Episode 5 of The JediRob and Amit Show is now online waiting to tickle your funny bone.
Photo Galleries of last nights events can also be viewed here