Thumbs up on Ziegfeld!
Posted by Spell on
Number of people currently in line: 0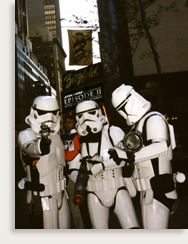 We here at NYLine are pleased to announce that we now have the green light to line up in front of the Ziegfeld Theater once again! A tentative line schedule is also now available for your viewing pleasure.
NYLine will again be lining up to raise money for the Starlight Starbright Children's Foundation. To date, we have raised nearly $33,000 for Starlight. Most impressive. Hopefully we can go out with a bang this time around. Bigger than a Death Star explosion with any luck.
Better start planning those days off now! If you loved the first two lines, you are going to have a blast on this one! This is the LAST line for a Star Wars movie and we are making plans for a sidewalk event that will be long remembered.
Here we go again!