NYLine Bulletin 2: Important Line Business
Posted by Spell on
Number of people currently in line: 20
Ticket Distribution Dates:
Sunday, May 12th from 3-7 p.m. at the Ziegfeld.
Monday, May 13th from 7-10 p.m. at the Ziegfeld.
There will be two more Collection Days for Starlight Donations - Sunday, May 12th from 1-5 p.m. and Wednesday, May 15th from 7-9 p.m. As everyone knows, any NYLine member raising at least $50 for the Starlight Children's Foundation will receive an exclusive NYLine T-shirt. Here it is!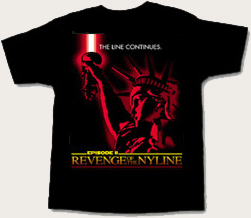 NYLine Contests
Scavenger Hunt Part I
The Phantom Menace Band Aids
A Loose Vintage Action Figure
Anything with Jar Jar Binks on it
A Star Wars Neck Tie
1 Decipher CCG
Special Wild Card: A ticket stub from opening day of The Phantom Menace at the Ziegfeld. Use this in place of any one item.
Part II will be announced on May 7th at the line. The main prize will be an autographed photo of Billy Dee Williams aka Lando Calrissian. The photo will be from Celebration 2 and will come with a Certificate of Authenticity.
Fan Art Contest
We are looking for artist to come up with their best representation of Star Wars AND NYC. If you plan on entering this contest, you must enter by sending an e-mail to us. More events to come. If you have any questions about events e-mail SWNYC.
Star Wars Customized Card Game Tournament
NYLine Sponsor, Forbidden Planet, will host a CCG Tournament Sunday Afternoon, May 12th. All NYLine members can receive a 10% discount on any item at Forbidden Planet as long as you show your NYLine badge. Forbidden Planet is located at 840 Broadway at 13th Street, Monday-Saturday, 10-10 / Sunday, 11-8 p.m.
See U on the pavement!
NYLine Staff