The NYLine Newsletter Archives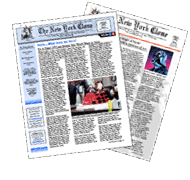 Have you missed out on past issues of our Newsletter? Visit the links below to view archived editions of our past publications.
All Newsletters require Adobe Acrobat Reader which may be downloaded for free.
2005
Your Destiny Awaits: At Long Last, We're Headed to the Ziegfeld!, From the Starlight Starbright Foundation, Midtown Guide: The Streets of Midtown Aren't To Be Traveled Lightly...Without This Guide, An Outlander's Guide to Navigating the Bright Center of the Universe – NYC, Does This Cape Clash With My Lightsaber? Being Fashionforward on the NYLine, You Gotta Amit: You Must Be Joking!
NYLine Events, Here We Go Again..., Priority Seating, NYLine...from a certain point of view: From Casual Fan to Fanatic After Only 12 Hours On 54th!, I Walk the Line: I Ain't In This For Your Charity, Princess – I'm In It For The Tickets..., You Gotta Amit: Joseph Campbell and the Wind Beneath Our X-Wings
International Fan Spurs Auction Effort, The NYLine Auction Needs You!, Letter from Starlight Starbright Children's Foundation, NYLine III Stand-A-Thon To Benefit Starlight Starbright Fun Center Program, "Star Wars" Valentines Make for a Maxie Big Val Day, Ya gotta amit: He's Dancing Like Oola? It's For The Moola!
NYLine Returns to 54th Street For Final Stand-A-Thon, Begun, the Online Line-Up Has, Where were you in '99 and '02?, I Walk the Line: Forget Campfires and Canoes – We've Got Sith Lords and Street Vendors, You Gotta Amit: Gettin' Zieggy With It After Hours On The NYLine
2004
Pick Up Your Visual Scanning: It's Beginning To Look A Lot Like "Star Wars", May The Cents Be With You, The Force Is Strong With This One: A Father-and-Son Analysis of the Episode III Title, You Gotta Amit...
Welcome Back, A Thank You from Starlight, Starlight Foundation Fun Centers, Women and Star Wars: For Men Only? FUGGEDABOUDIT!, Ya gotta amit: Episode III - The Phantom Column, Bonus NYLine III Teaser Flyer - Print It, Copy It, Let 'Em Know NYLine Is Back!
2002
Star Wars: The Magic of Myth Opens at the Brooklyn Museum of Art, Looking for Clones In All the Right Places, Was it Worth It?, NYLine: Spoiler Free Through Episode III!, A Force to be Reckoned with, Ya gotta amit: Sparks
Welcome to our Premiere Issue, The New York Star Wars Alliance, The NYLine, StarWarsNYC, FanForce, Starlight Children's Foundation, Empire City Garrison, The Magic of Myth, Grenke on Grenke: The Cagey Menace - A Self-Important Interview, In Defense of Clones That Attack and Phantoms That Menace, Ya gotta amit: Residue
1999
43 Days Until The Big Show!, The Pressure Is On, Everyone's a Critic, The PR Princess, The City Guy, Help Wanted Ads, Logistically Speaking, Live From New York...It's the Star Wars Line!, From the Administrators Desk, NYLine Countdown Volunteers
Lucas Changes Release Date to May 19th!, What is he doing to us?, Portrait of a Fanatic, The PR Princess, First Star on the Left, Help Wanted Ads, Logistically Speaking, In the News!!!, NYLine Countdown Volunteers
Theaters To Be Announced!, Getting closer to knowing, Happy Trailers, From The Administrators Desk, Lets all give a big hand to those who have joined the line!, The PR Princess, And now for something completely technical, Pushing The Envelope / F.A.Q, Fan Feedback, Questions to the Man, Help Wanted Ads, Logistically Speaking, NYLine Countdown Volunteers
Voila.com Becomes New York Line Sponsor, To Ziegfeld or Not To Ziegfeld: In Search of Space, Voila.com becomes NYline's first sponsor!, From The Administrators Desk, Lets all give a big hand to those who have joined the line!, A Wicket in Times Square, The PR Princess, Pushing The Envelope / F.A.Q, NY Line Questionnaire, Logistically Speaking